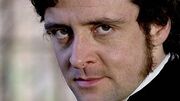 Will North
is a reporter/ member of the press who meets and starts meeting Spook
Zoe Reynolds
, played by Richard Harrington.
During the third series Will's brother steals photos of Ashwood and his male lover selling the picture to the newspaper. Danny had told Zoe that will had told his brother that she worked for MI-5 and had cancelled the wedding. During Zoe's trial she had called Will and asked him for forgiveness and had gotten back together. After Zoe's conviction and disappearance, Danny relents and tells Will where Zoe is in hiding.  Zoe sends Danny a post card from Chile of she and Will, with her thanks.
Ad blocker interference detected!
Wikia is a free-to-use site that makes money from advertising. We have a modified experience for viewers using ad blockers

Wikia is not accessible if you've made further modifications. Remove the custom ad blocker rule(s) and the page will load as expected.