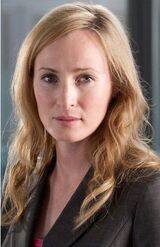 Sarah Caulfield was the CIA Liaison Officer to Section D of MI5 in Series 8. She first appears in the first episode of the series in which Harry has been kidnapped by a former Indian Intelligence Officer for a supply of Uranium which would have been used to legitimise the Iraq War.
During her time in the series, she started up a romantic relationship with the MI5 Officer  Lucas North but this relationship didn't last as she was forced to go on the run when Lucas found out that she was part of of international organisation whose goal was to spark a war between India and Pakistan. She also had quite bitter rivalry with the MI5 intelligence officer Ros Myers.
Ad blocker interference detected!
Wikia is a free-to-use site that makes money from advertising. We have a modified experience for viewers using ad blockers

Wikia is not accessible if you've made further modifications. Remove the custom ad blocker rule(s) and the page will load as expected.