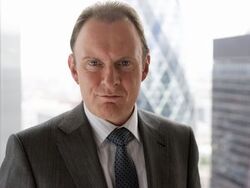 Robert Glenister (born 11 March 1960) is an English actor known for his roles as con man Ash "Three Socks" Morgan in the BBC television series Hustle (which ran for eight series in the UK between 2004 and 2012, Glenister being the only actor to appear in every episode), and Nicholas Blake in the BBC spy drama Spooks.
External Links
Edit
Ad blocker interference detected!
Wikia is a free-to-use site that makes money from advertising. We have a modified experience for viewers using ad blockers

Wikia is not accessible if you've made further modifications. Remove the custom ad blocker rule(s) and the page will load as expected.