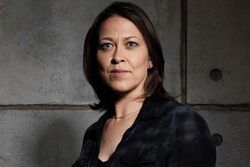 Nicola Walker (born 1970) is a British actress, best known for her starring roles in various British television programmes from the 1990s onwards, most notably as D.I. Susan Taylor in Touching Evil, and as Ruth Evershed in the spy drama Spooks. She has also worked in theatre, radio and film.
Ad blocker interference detected!
Wikia is a free-to-use site that makes money from advertising. We have a modified experience for viewers using ad blockers

Wikia is not accessible if you've made further modifications. Remove the custom ad blocker rule(s) and the page will load as expected.