" I believe killing people in the name of life is just about the stupidest thing I've ever come across."
―Tom Quinn to Mary Kane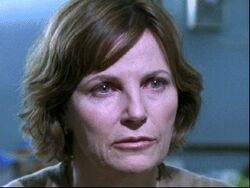 Mary Kane is an American religious extremist/ terrorist who came to the United Kingdom to start a terrorist campaign. She appears in the first episode of Spooks "Thou Shalt Not Kill" and therefore the first team we see Section D deal with.
She and her network are pro lifers who are against abortions comparing them to school shootings. Kane and her network have smuggled a number of bombs into the country and plan to target UK doctors who perform abortion, planting and detonating in their homes and cars.
Ad blocker interference detected!
Wikia is a free-to-use site that makes money from advertising. We have a modified experience for viewers using ad blockers

Wikia is not accessible if you've made further modifications. Remove the custom ad blocker rule(s) and the page will load as expected.